Welcome to Central/Outer Richmond
The Central/Outer Richmond Neighborhood, San Francisco.
California is known for its perfect beaches and beautiful weather. Welcome to Central/Outer Richmond. The Richmond District is one of the foggiest areas in California. Taking a trip to Outer Richmond means getting close to the water and immersing yourself in a foggy wonderland.
Visiting Central Richmond is a whole no other experience. This area of Richmond is a bustling city, full of classy restaurants, and shops. If you're looking for a fast-phased lifestyle with elegance and class, then this neighborhood is for you.
Prior to the 1900s, The Richmond District was an uninhabited piece of land that earned the nickname "The Great Sand Waste" because of its hilly landscape, foggy atmosphere, and- you guessed it- sand. Thankfully, the district boomed when streetcars came to the area, and now it is one part quiet-residential-beach-town and one part lively-restaurant-filled-city.
Area: 2.705 square miles ZIP Codes: 94118, 94121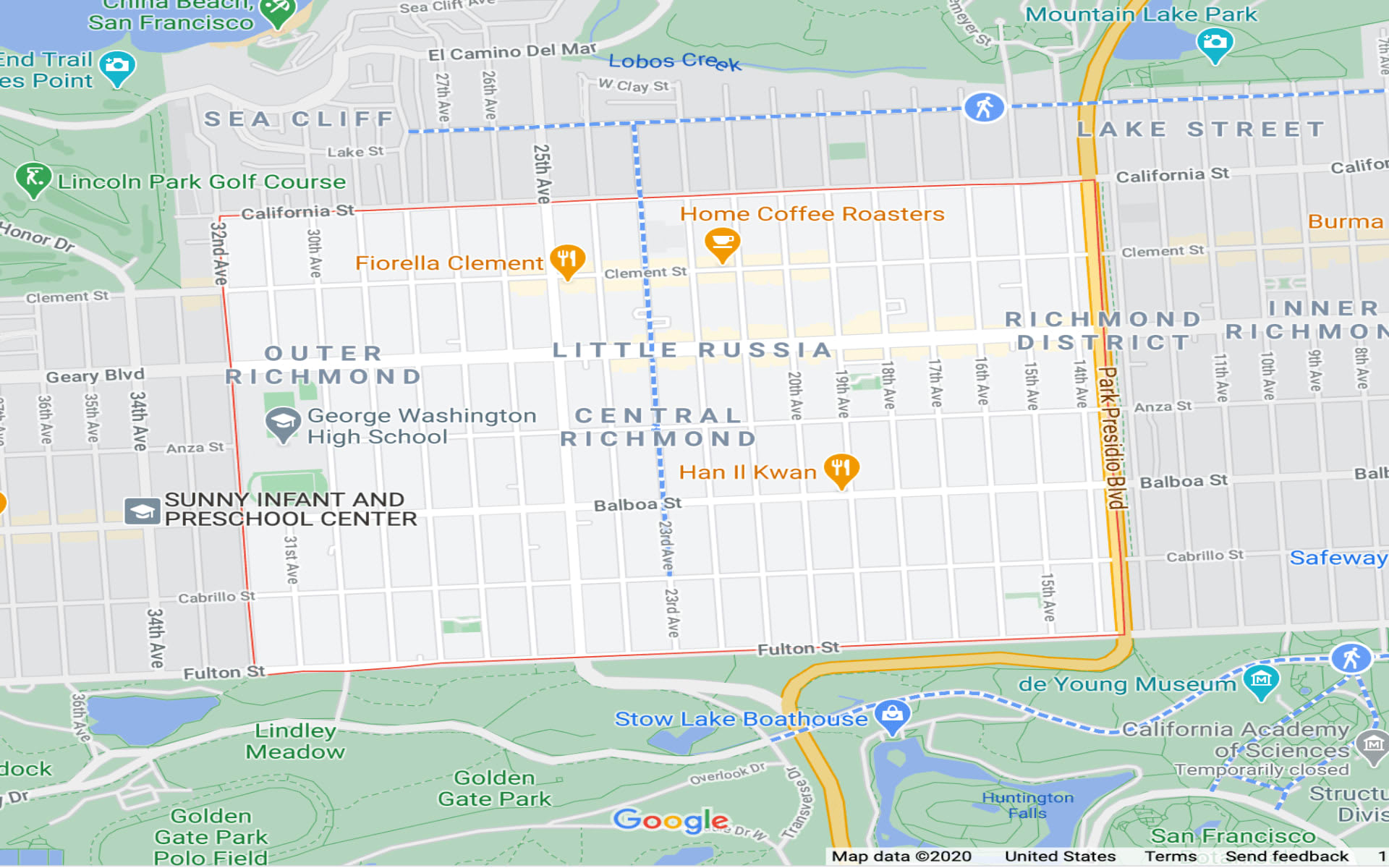 Take a Look Around the Richmond Neighborhood


Quick Neighborhood Details
Not to be confused with the City of Richmond

Bordered by the Pacific Ocean on the West

Heavily influenced by immigrants

Excellent place for families and seniors

Heavy Italian culture

Highly-diverse cultural population

Popular Destinations in Central/Outer Richmond
Stop by one of these popular bars, shops, or attractions while strolling through Richmond.
---
Food
Located conveniently on Geary Blvd, the Dragon Beaux restaurant is a local hotspot for enjoying excellent Asian-fusion dishes, dumplings, hot pots, and more.
Sometimes, good old-fashioned southern food is what our soul needs. Stop by the Hard Knox Café and bite into a plate of BBQ ribs, fried chicken, waffles, or cornbread. If your soul needs to be comforted (with food), then this is the place to be.
Fun
Golden Gate Park is a sprawling 1,017-acre park located within the Richmond District. It is often compared to Central Park in NYC, but it is actually larger by about 20%. Millions of locals and tourists visit this park every year, making it one of the top three most-visited parks in the USA.
Conveniently located within Golden Gate Park, California Academy of Science is one of the coolest places that you can explore. Bring your whole family here for a day-long of fun exhibits, science experiments, and learning.
Shopping
If you're into Japanese goodies like plushies, toys, accessories, office stationery, stickers, and more, You have to visit the Kawaii Corner located around Geary Boulevard. Bring your kids here, but be warned, they may never want to leave!
For all vintage-lovers and antique hunters, Gaslight & Shadows Antiques has some of the best antiques in the Richmond District. Their selection has a bit of everything, from costume jewelry to porcelain pieces, china, music boxes, and various collectible items.
Schools
Central/Outer Richmond has 8 primary and secondary schools. One of them is Lafayette Elementary School. The public schools in Outer Richmond are Alamo Elementary School, Washington (George) High School, Presidio Middle School. For private schools, it has St. John Of San Francisco Orthodox Academy, St. Thomas the Apostle School, St. Monica School, and Erikson School.