Welcome to Dogpatch
The Dogpatch neighborhood, San Francisco.
Get ready, San Francisco, one quaint and artistic neighborhood that is on the rise to becoming a booming city. Welcome to Dogpatch. Historically speaking, its location on the San Francisco bay made it an industrial center and hub for shipbuilding far back into the 1800s.
This neighborhood did not experience a boom in population and culture until the 2000s when old industrial centers and warehouses were reimagined into art galleries, high-end lofts, restaurants, and indie stores. If you ask any local artist, Dogpatch is the place to be.
If you are looking for a daily dose of fine arts and class, this is definitely for you. The atmosphere of this neighborhood accommodates those who would prefer to hit up an art show, grab a drink and a farm-to-table meal at a local brewery, and then retire for a peaceful night in their 18 the century home (or modern loft).
Area: 141 acres ZIP Codes: 94107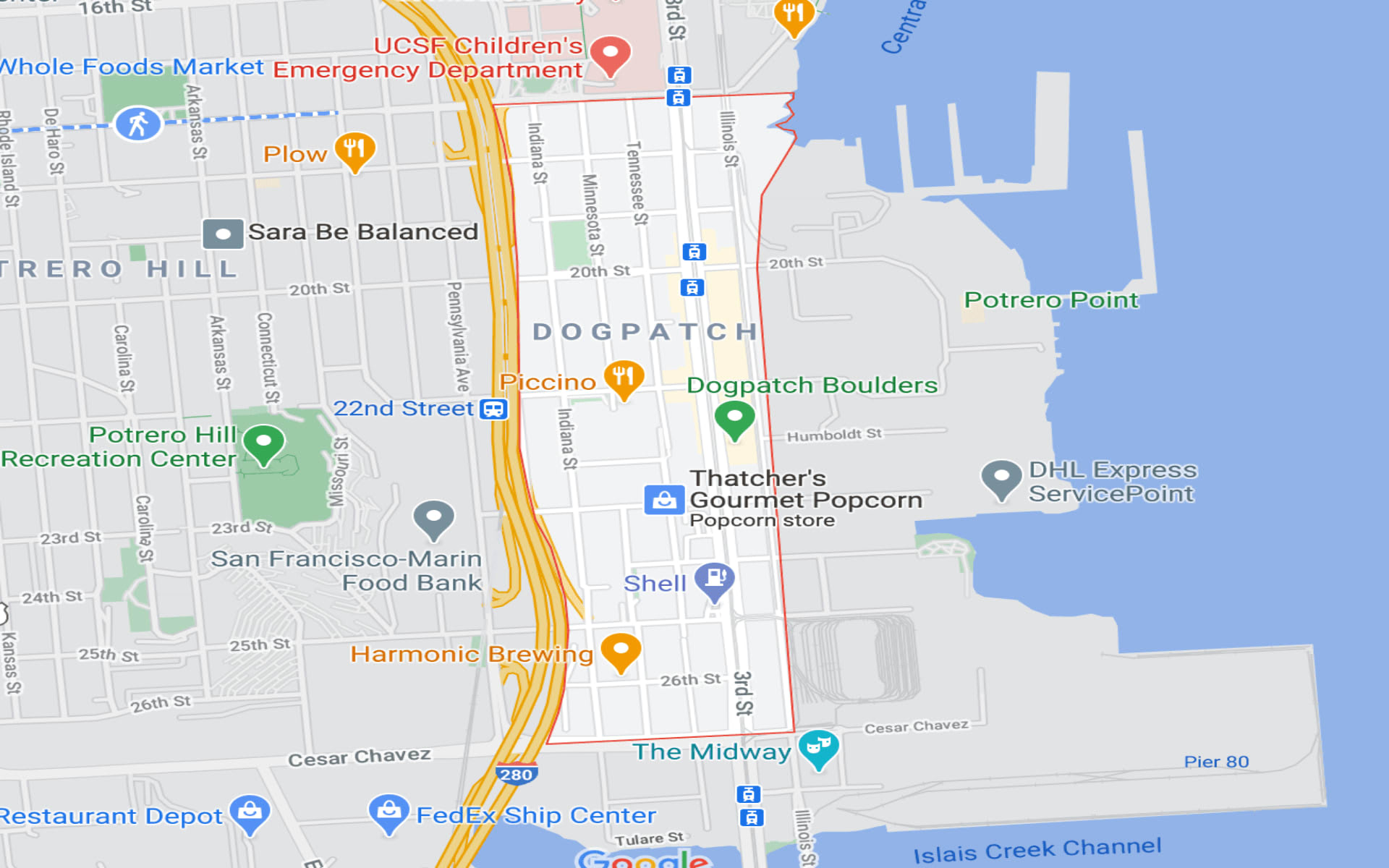 Take a Look Around the Dogpatch Neighborhood


Quick Neighborhood Details
Industrial warehouse structures turned to lofts and galleries

Commercial area with growing residential

Artistic, creative, hipster, indie vibe

More affordable living costs

Located next to the bay

Official historic district
Popular Destinations in Dogpatch
Stop by one of these popular bars, shops, or attractions while strolling through Dogpatch.
---
Food
If cafes are more your style, stop by Piccino on Minnesota St. They serve your favorite coffee drinks alongside homemade goodies and quick bites to eat. Snack on a ginger scone or a potato frittata while browsing the wine list or sipping on a blonde espresso.
Long Bridge Pizza Co. is one business that is making use out of those vintage commercial buildings Dogpatch is famous for. The atmosphere is industrial-chic with a modern, simple, open feel that matches the gourmet artisan quality of their pizzas, salads, and sub sandwiches.
Fun
Opened in 2015, Minnesota Street Project's space has been flocked by artists ever since. If you are an artist or enjoy browsing local art collections, stopping here is a must. You will find local creators busy in their private studio space and others browsing the galleries on display to the public.
Dogpatch is located right next to the waterfront of San Francisco Bay, so that means close access to fun on the water. Even if you can't get access to a boat, kayak, or another water vehicle, there are a few parks located along the bay where locals like to stroll.
Shopping
Handcrafted pottery, freshly upholstered furniture and eclectic craft pieces are what resides at the Workshop Residence. This is both a makerspace and store for local artists to sell their wares. Most of the pieces are high-end on the luxury side, but the craftsmanship is gorgeous.
Along 22nd St lies a Willy-Wonka-esque chocolate factory. Well, sort of. The Recchiuti Confections at the Lab makes and sells gourmet chocolates (and other sweets) that will leave your sweet tooth satisfied.
Schools
For Dogpatch, we have La Scuola International School, Shining Star Bilingual Montessori, Friends of Potrero Hill Nursery School, and CAA Dogpatch Graduate Studios.